Antique Pearlware
Unfortunately the dust formed in the process of producing creamware was highly injurious to the potters and between 1726 and 1732 patents were taken out by Thomas Benson for grinding flints under water. About 1740 a fluid glaze was invented, traditionaly by Enoch Booth from Tunstall, and both the lead ore and flints were ground under water. The glaze was then applied to ware which had previously been fired to a biscuit and then refied. This glaze was slightly tinted with cobalt which made it a forerunner of the "pearlware".

---
A Rare English Pearlware Jug c.1810-20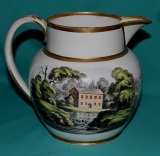 A Rare English Pearlware Jug c.1810-20, superbly painted in coloured enamels with ruins/rural scenes and gilt, monogrammed "MW". Dimensions: 18 cm high. Condition: two chips near the rim/spout. Unmarked.
SOLD

---
A Davenport Pearlware Basket c.1810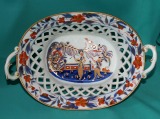 A fine Davenport Pearlware Chestnut Basket c.1810, of oval section with diamond shaped pierced central band, the scroll handles with inner and outer spurs, decorated in "Japan" pattern in underglaze blue, iron red and gilt with an Oriental man and boy in a fenced garden with two bird, within a panelled diaper border, the rims with floral meander. Dimensions: 27 cm x 17.5 cm x 8 cm high. Impressed lower case Davenport and anchor marks. Excellent condition.
Price: £210
Stock number: PY1418
---
A Pearlware Tea Caddy c.1790-1800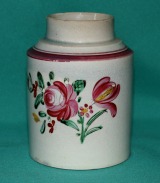 A Late eighteenth century English pearlware tea caddy painted with floral sprig decoration in polychrome enamels. Dimensions: 10.2 cm high. Fine condition, minor enamel loss. Unmarked.
Stock number: PY1409
Price: £130
---
A Davenport pearlware Plate c.1810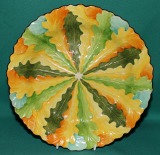 A fine Davenport Pearlware Plate, c.1810, relief moulded with overlapping oak leafs, naturalistically enameled in shades of green, yellow and orange, the rim painted in brown. Dimensions: 21 cm diam. Fine condition, just minor staining on the back. Impressed marks: anchor and curved "Davenport" on the base.
SOLD

---
English Pearlware Botanical Plate c.1805-10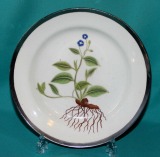 An English Pearlware Botanical Plate c.1805-10 (possibly Swansea), naturalistically painted with a named floral spring, within a silver lustre border around the rim edge. Dimensions: 20.7 cm diam. Marks: Painted in red " Blue Navel Wort" and 41 in black. Fine Condition. SOLD
---
English Pearlware Teabowl and Saucer c.1780-90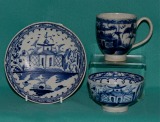 English pearlware teabowl and saucer c.1780-90, together with similar coffee cup, hand-painted in underglaze blue with "pagoda and fence" pattern. Dimensions: teabowl: 4.5 cm high x 8.5 cm diam; saucer 12.8 cm diam; coffee cup 7 cm high. Condition: some staining and minor damage. Painted marks on the base.
Price: £120
Stock number: PY1347
---
A Liverpool Pearlware Punch Bowl c.1780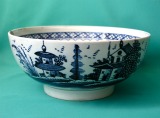 A Liverpool Pearlware Punch Bowl c.1780, painted in blue underglaze, the outer decoration features an oriental landscape with pagodas, the inner design with a sunflower, flying insect and lattice border. Dimensions: 25 cm diam. x 11 cm high. Condition: a chip near the rim. Unmarked.
* For similar decoration and designs see "Painted in Blue" by Lois Roberts (Northern Ceramic Society) 2006, Liverpool Jerdiniere Group, page 95-96.
Price: £140
Stock number: PY1206
---
A Baggerley & Ball Pearlware Jug "Mongol Huntsmen" Pattern c.1825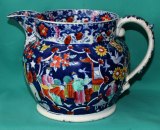 A large Staffordshire pearlware jug by Baggerley & Ball c.1825, white earthenware, transfer-printed underglaze in blue, and painted in green, yellow, and red enamels with "Mongol Huntsman" pattern. Ovoid body with short cylindrical neck, projecting lip, and strap handle, standing on a footring. To the right of the handle there are two figures seated under a tree; next to them is a panel with an inverted scalloped edge enclosing a figure in a building, and a child with standing father and seated mother beneath three flowers. Below the spout there is a tall structure with a little boy and a woman standing on the left, and on the right, a table bearing a vase of flowers, a scroll and a bowl, it with a woman beside it. Further to the right is a similarly-shaped medallion containing three men and a child with a cat or dog, and a flying bird. Further to the right is a small boy below two large flowers with a bird flying overhead. Round the interior and exterior of the neck and spout there is a border of stylized flowers and scrolls, and down the back of the handle, a spray of thee blue flowers with pairs of red buds between them. Dimensions: 15.5 cm high x 23 cm from handle to spout. Condition: minor enamel loss/over-painting. Printed marks "B & B L Opaque China" on the base.
Stock number: PY1412
Price: £100
---
A Rare Staffordshire Pearlware Jug, Pattern "Elephant & Camel", c.1825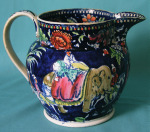 A Rare Pearlware ovoid Jug in "Elephant & Camel" Pattern, made by Baggerley & Ball, Staffordshire c.1825, (filled-in transfer on pearlware), boldly painted with figures, an elephant and a camel, on a dark blue ground. Dimensions: 13.5cm. high. Unmarked. Condition: spout restored.
SOLD
---
An English Pearlware Teapot c.1780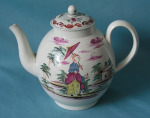 An English Pearlware Teapot, painted in polychrome enamels with Chinese Mandarin figures, the reverse with pagoda in a landscape. c.1780. Dimensions: 16cm high. Unmarked.
SOLD
---
Pearlware Toby jug Hearty Goodfellow c.1820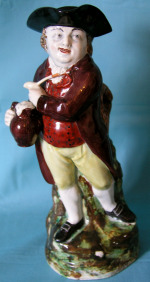 A Hearty Goodfellow pearlware toby jug c.1820, standing on a rustic mound with a tree at the back, branch from which forms his handle. Dimensions: 11.5"(29cm) tall. Unmarked. Condition: hat restored, some overpainting.
SOLD
---
Pearlware "Mocha" decorated Jug and Mugs c.1840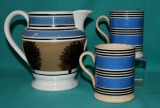 A Mocha decorated Jug and two Mugs (also known as "Dip-decorated earthenware"), pearlware body, coloured "seaweed" pattern/bands in blue and black, c.1840. Dimensions: mugs: height:3.75"(9.5cm), Jug: 15.5 cm. Condition: some damage. Unmarked.
Price: £120
Stock Number: PY0903
(Free Worldwide shipping for this item)
---