Fine 18th & 19th Century Antique Porcelain and Pottery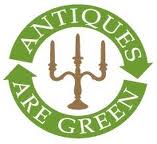 Collectors of porcelain and pottery have an unrivalled opportunity to observe the full range of materials and techniques developed down the centuries. Primitive processes directly traceable to the Middle Ages were still being applied on a commercial scale in the 19th Century. Many techniques of the 18th century remain the basis of manufacture and ornament to this day.
The following pages show the general course of ceramic design of the period and especially the revivals and adaptations and wholly new ideas of the prolific 19th century.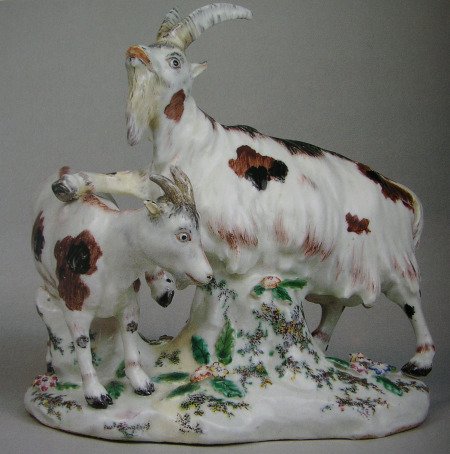 From the examples listed on our site you can see the simple outlines of the 1740s-50s, the mid18th century development of a delight in rococo and chinoiserie fantasy, the pseudo-classical interest in the 1760s, revived heavy-handedly at the end of the century, the substantial shapes of the Regency, the late Georgian revival of chinoiserie and rococo again. Also you must note the "Elizabethan" and "Gothic" romanticism of early Victorians, the naturalistic excesses of the mid-19th century and the phase of statuesque ceramics-white figures, white relief-moulded jugs. From the early 1870s onwards there was an enthusiasm for all things Japanese and at the century's end a curious mixing of Victorian Japanese and Victorian 'Renaissance, heralded as L'art nouveau.
In order to satisfy the increasing demand from collectors and enthusiasts at all levels the range of collectable items has widened enormously to include a dazzling array of affordable "china" that was once in every day use, from the humble cup and saucer to the jam pot and ewer.
No collection is perfect. Some people can purchase an object as an opportunity and purse permit, others tend to specialize in order to build an important collection showing the whole range of a specific subject and its development. Today, however there is a third class of collector - the investor, who buys not only because of great love of the subject but also to seek a hedge against inflation and the lowering the value of the money and savings.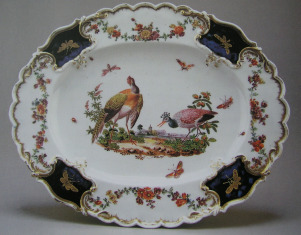 That's why our aim is to succeed in both informing and arousing enthusiasm. We hope this site will open the eyes of experienced collectors to new delights while introducing the newcomer to the pleasures of collecting and the lasing charm of antique ceramics.
Our stock consists antique porcelain and pottery (table wares and decorative items) from all British factories: Bow, Chelsea, Derby, Coalport, Minton, New Hall, Ridgeway, Spode, Swansea, Worcester and a good range of articles from the major European factories like Meissen, Berlin, Nymphenburg, Sevres, Paris, Niderviller, Gardner, Ginori, etc. We also have a large selection of antique pottery and a variety of Orienthal ceramics.
Having the privilige to be based in London gives us the opportunity to have an easy access to some of the World's most famous Auction Houses, Antique Fair shops and markets.
You can also find us on Ebay and Facebook under the user name: "ANTIQUE-PORCELAIN-ONLINE". Our price range is from £30 to £3000. We are member of English Ceramic Circle (ECC) and London Ceramic Circle (LCC).
As many specialists say: "The most helpful source of learning is a dealer's shop" so please feel welcome to our site!
We are happy to take any enquiries covering the subject and try to help and advise our clients delivering a valuable guidance in the journey of collecting.
Antique Porcelain Blog keeps you up-to-date with all additions and changes to the antique-porcelain-online.com Web site. Subscribe here.
Samuel Alcock porcelain c.1822-1859, dessert plate, cup and saucer
18th Century Bow Porcelain
18th Century Bristol Porcelain, Bristol Porcelain teapot, bristol cup and saucer
Caughley Porcelain
A pair of Chelsea Porcelain figural candelabra c. 1765, one modelled as Cupid with a bow and quiver tied at his side, the other as his female companion, a basket of flowers in her right hand.
Antique 19th Century Coalport Porcelain desert plate, coffee set, cup and saucer
Spode porcelain centre dish c.1820,A part Copeland-Spode topographical dessert service c.1852, painted with topographical views
Fine Antique Davenport Porcelain desert plate, armorial plate
Antique 18th and 19th century Derby porcelain
Antique Liverpool Porcelain, Seth Pennington's, Chaffers' factory, Philip Christian, William Reid
18th Century Lowestoft Porcelain, Lowestoft blue and white, polychrome, teabowl, cup and saucer, Lowestoft figure.
Machin Porcelain
19th Century Minton porcelain
18th and 19th century New Hall porcelain
Fine Antique Ridgway J & W Porcelain
Rockingham Porcelain 1826-1842
Antique Swansea Porcelain, Nantgarw Porcelain, Swansea porcelain cup and saucer, Swansea dessert plate
Antique Worcester Porcelain
Other British Porcelain, Aynsley,Caughley, Rockingham,Bristol,Machin,
Antique Parian, Parian Figures
Antique Continental Porcelain, Meissen teapot, Gardner teaset, Sevres cup and saucer
A French Antique boxes,Sevres style porcelain snuff-box, 19th century Vienna patch box,Antique French patch box
Antique Miniature Porcelain cups and saucers,plaques, fugurines from Meissen,Dresden, Vienna
Antique Black Basalt Pottery, Wedgwood black basalt, Leeds black basalt, black basalt coffee pot
A list of items 18th and 19th Century Antique Creamware Earthenware Pottery
antique delft, delft pottery, 18th century Dutch delft, English delft, 18th century delft, tin glazed pottery
Fine Antique Faience Pottery, 18th Century faience, antique tin-glazed pottery, Rouen, Moustiers, Gien, Faenza
Antique Maiolica, Antique Italian Maiolica, Antique tin-glazed pottery, 19th Century Maiolica
19th Century Antique majolica, minton, wedgwood, english majolica jugs, plates, figures
Other antique Pottery, antique majolica dish, Swansea pottery, antique Staffordshire pottery
Fine 18th & 19th century Pearlware Antique Pottery
Antique Transfer-printed Pottery, Pearlware Transfer-printed, Antique Transferware, Antique Blue & White Pottery
Antique Oriental Ceramics
We will regularly post some
Antique Glass, 18th/19th Century Glass, Antique Bohemian Glass, Antique Milk Glass
Terms of sale
Contact us
New Items
For All New Items and latest updates visit our Blog.
---
A Rare Coalport Cabinet Plate (outside-decorated) c.1805-10
---
Rare Chelsea-Derby Porcelain Coffee Can & Saucer c.1780
---
Rare French Palissy Ware Dish "The Abduction of Hippodamia"
---
A fine Meissen Porcelain Plate c.1740-50
---
First Period Worcester Porcelain Tea Caddy, "Old Mosaic" Japan Pattern c.1765-70
---
18th Century German Enamel Snuff Box
---
19th Century Nymphenburg Porcelain Vase
---
A Pair of Staffordshire William Greatbatch Creamware Creamboats c.1770
---
Worcester Porcelain Punch Bowl "Rock Strata" pattern, c.1770
---
A fine Chelsea Porcelain Finger Bowl, red anchor period, c.1755
---
Large 19th Century Italian Maiolica Charger
---
Pair of 19th Century Minton Porcelain Vases
---
Furstenberg Porcelain Model of a Buffalo c.1755
---
Pair Minton Majolica Figures/Match-holders Boy and Girl with Baskets c.1863
---
Late 19th Century Meissen Porcelain Candelabra
---
Minton Terracotta Moon Flask c.1873
---
A fine 19th Century Italian Maiolica Charger
---
A Worcester blue & white porcelain basket c.1770-5.
---
A Collection of Seven 18th Century Chinese Porcelain Coffee Cups
---
A Large 19th Century French Biscuit Porcelain Figure Group "Judgement of Paris" (possibly Sevres), signed "Le Riche".
---
19th Century KPM Berlin Porcelain condiment set,silver-gilt mounted by "A. Risler & Carre" Paris.
---
French Faience Plaque of st Bruno (possibly 17th Century)
---
A Silver Cigarette Box with Royal Worcester Plaque by H. Stinton c.1929
---
A Large Dr. Wall Worcester Porcelain basket c.1770
---
A Pair of Royal Worcester Porcelain Figures c.1865
---
A set of four Swansea porcelain plates c.1817
---
A Hochst Porcelain Basket c.1760
---
A Pair of 19th Century Samson Porcelain Figures of Turks
---