Rare Transfer-printed Perlware Tureen Stand, Indian Scene c.1820

A rare English Georgian Blue and White Transfer-printed pearlware Tureen Stand, of Indian interest, from the Flower Panel Border series, Printed in a dark blue with an attractive scene depicting part of the City of Benares in India, after the engraving by George Cooke, based on William Hodges' "Part of the City of Benares", from John Pinkerton's "A General Collection of the Best and Most Interesting Voyages and Travels in All Parts of the World". The dome and towers would appear to represent "Ancient Tomb at the Confluence of the Boglipore Nullah". Dimensions: 33.5 cm diam. Condition: several chips on the reverce/baserim. Marks: printed numeral 8 in underglaze blue on the base.
*Similar item is illustrated, along with others from the series, in Michael Sack's book "India on Transferware" (2009).
Stock Number: PY1428
---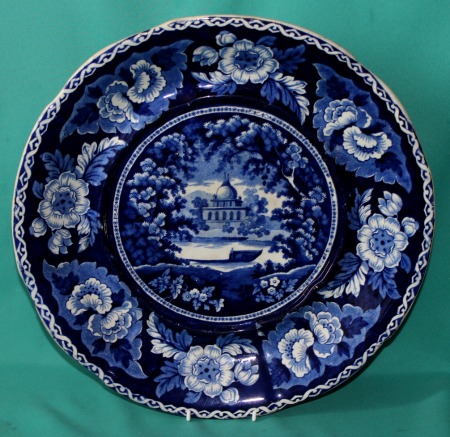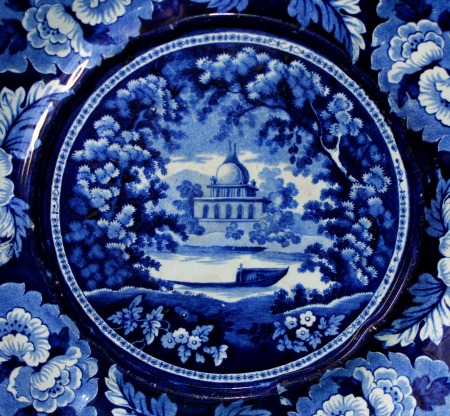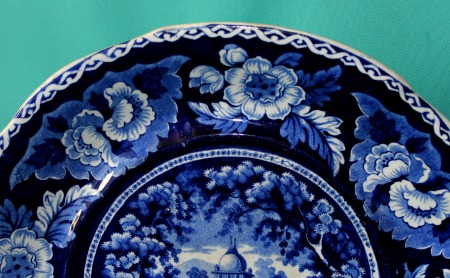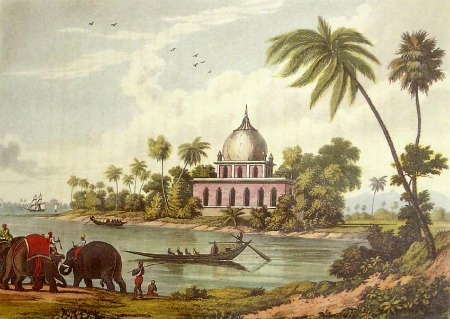 Ancient Tomb at the Confluence of the Boglipore Nullah
This is plate 8 from Charles Ramus Forrest's 'A Picturesque tour along the rivers Ganges and Jumna, in India'. Forrest was an East India Company official who made excursions in 1807/08 along the rivers producing drawings "attentively copied from nature, and in many instances coloured on the spot, ... while the magic effects of the scenes represented were still impressed on his mental vision".
More Antique Transferware Pearlware Pottery Items

---