A Chelsea-Derby Porcelain Plate c.1775
A rare Chelsea-Derby Porcelain Dessert Plate c.1775, by Constantine Smith*, the centre finely painted with ornate urn and garlands of flowers draped over it, surrounded by flower sprays, the wide border decorated in Smith's blue, gilded with scrolling anthemions between gilt and white dot pattern rims. Dimensions: 23 cm. diam Marks: Anchor and D mark in gold. Condition: The border partly re-gilded.
*Constantine Smith was considered to be one of the best hands at Nottingham Road. He was a preparer of coloures and a china painter and gilder. It is believed thet the bright on-glaze blue known as Smith's blue was Constantine's discovery rather than that of his son, William.
** This pattern is illustrated in "Derby Porcelain" 2002 by John Twitchett, page 103.
SOLD
---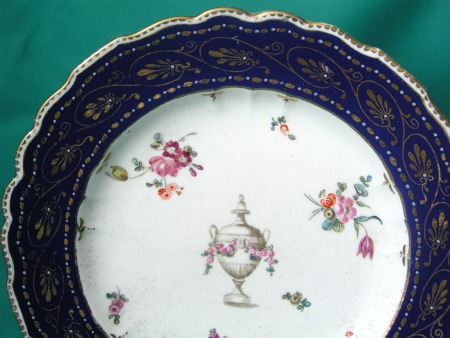 More Chelsea-Derby Porcelain items

---